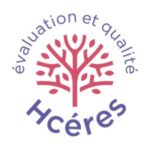 Hcéres has opted for the HAL multidisciplinary open archive platform for archiving and disseminating its publications. Created jointly by the CCSD and Hcéres, the portal benefits from the multicriteria search technology provided by the platform.
The Hcéres open archive portal on HAL sets itself apart from other institutional portals by the type of document that it hosts (evaluation reports, not scientific documents) and the fact that the reports will be fed into the archive once a year.
The HAL database has been adapted to include reference information on the entities evaluated by Hcéres. This specific development required considerable work to be conducted on referencing the reports and qualifying over 200,000 metadata to guarantee the relevance of multicriteria search results as the evaluated entities undergo changes over time.
Today, the portal proposes over 15,000 evaluation reports published by Hcéres (and previously by the AERES) since 2008. The hceres.fr website provides a complement to the portal: it features the reports from the last five campaigns and offers evaluated entities access to earlier reports by referring them to the HAL portal. The evaluation reports are published on the hceres.fr website in the course of the year as they come out and are filed on the Hal portal once the whole annual campaign has been completed.
In the medium term, the portal will also allow access to other Hcéres publications.
By opening its portal, Hcéres is facilitating long-term access to its publications, making the most of all the platform's potential in terms of full-text and multicriteria searches. It is also reinforcing HAL by enabling it to play its role to the full as an infrastructure at the service of research and its institutional environment.