The editorial teams managing a journal with Episciences now have access to the copy editing feature. The accepted article can now be formatted with the journal template either by the author or by a member of the journal team from the sources provided by the author. A new role of « copy editor » has thus been added, dedicated specifically to this stage in the publication of the article.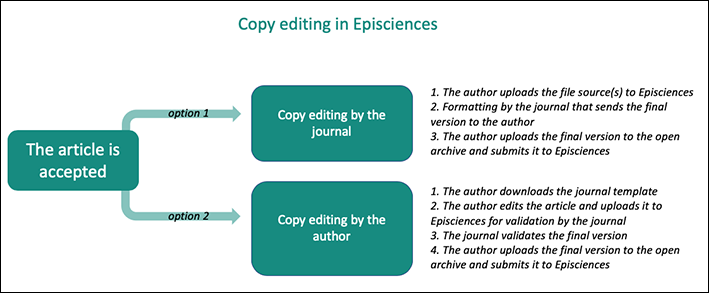 This feature, which is an integral part of journal management, was long overdue to our users. A 2018 survey of journal editorial boards revealed that the majority (63.6%) of respondents noted the absence of this key element of traditional editorial workflow in digital publishing. The CCSD has thus carried out a reflection on the redesign of the workflow of an article in partnership with the editorial support teams of Inria and Fourier Institute.
See user documentation to know more about it.
Episciences is gradually evolving to meet the needs of its users in the best way possible. One of the next steps (under development) is the possibility to assign DOI identifiers to newly published articles and to past one following the CCSD's new membership in Crossref.
Release notes are available here.