The Sherpa/Romeo website has been redesigned this summer: the new interface aims at displaying the open access policies of the publishers, and not only those concerning self-archiving.
To remain an efficient help while depositing, HAL had to adapt to this new display  to only show  the information useful for self-archiving.

For the past 15 years, the Sherpa/Romeo site has been the reference website for scientific authors to know their publishers' policy regarding the self-archiving of the different versions of their articles (submitted, accepted or published).
Publishers' policies and the open access market have changed a lot since the creation of this site. Open access policy can be complex and varies according to geographical location, the institution, and the various routes to open access. Sherpa/Romeo's new interface aims at showing this complexity. As a result, it is a little difficult to read the information.
The choice was thus made to adapt for HAL the display of the data using the APIs provided by the Sherpa/Romeo site.
When you add a journal title in the deposit form, a button « Self-archiving policy » is displayed if the data of this journal title in HAL is linked to the Sherpa/Romeo data: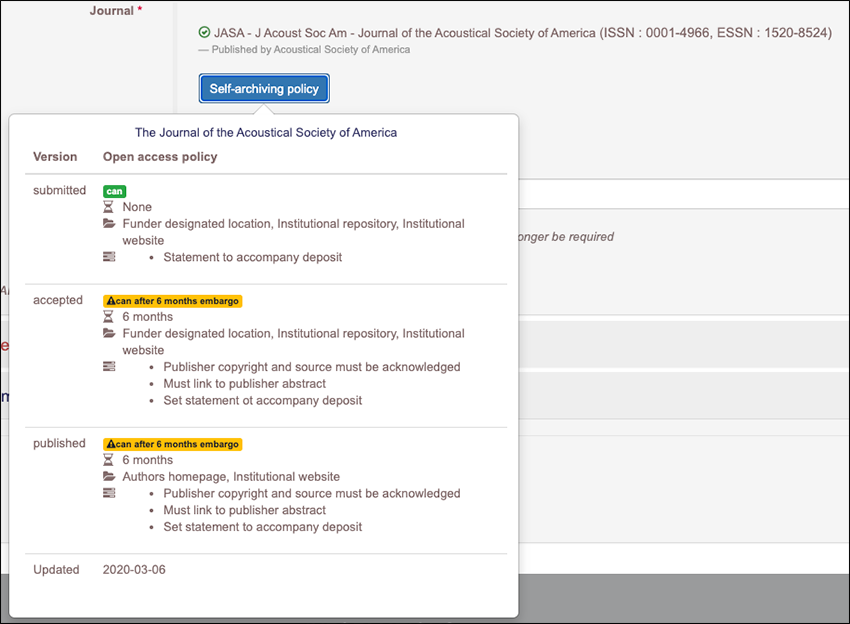 The Sherpa/Romeo data shows the policy of the publisher depending the article version:
submitted : submitted version or preprint
accepted : accepted version or author accepted manuscript or postprint
published : published version or version of record or publisher's version/PDF
The data also specifies if an embargo is requested by the publisher. As a reminder, and this concerns the « accepted » version only, the article 30 of the french Law for a Digital Republic limits the embargo to a maximum of 6 months for science, technology and medicine and 12 months maximum for the human sciences if the research is at least half publicly funded. If the publisher does not ask for any embargo on this version, there is no need of course to add one in HAL. But this is very useful if the requested duration exceeds what is prescribed in the article 30.
In addition, the publishers can request Creative Commons licences.
For the published version, Sherpa/Romeo's new interface introduces the APC (author processing charge): if your article is in open access on the journal's website because such a fee has been paid, you can deposit the published version in HAL. The information will be marked as « can with additional fee ». Generally, the publisher's pdf mentions that the article is in « open access » and/or mentions a Creative Commons license.
Simplifying the deposit also means effectively guiding the depositor in these sometimes complex publisher policies.