It is now possible to add a ROR identifier (Research Organization Registry) to complete the metadata of research organizations of HAL. This will contribute in the long run to the improvement of the authors' automatic affiliation when you deposit.
You know the DOI for scholarly publications or research data, the ORCID and idHAL for researchers. These identifiers enable interconnections and facilitate data exchange between platforms, databases and applications. It is also essential to have identifiers for organisations and institutions. HAL already uses the idRef (produced by the ABES), the RNSR (National Directory of the Research Structures produced by the Research Ministry), as well as the ISNI (International Standard Name Identifier). The ROR, an international identifier, is now added to this list.
As with the other identifiers, it can be added manually to the listing of research structures by authorized users (portal administrators and structure referents).
The ROR in the metadata associated with the DOI
The clear advantage of this identifier is that the main agency managing DOIs announced this summer that it was adding the possibility of including affiliation information using ROR identifiers. This means that a journal publisher, when providing the information associated with an article's DOI (author, title, journal title, etc.), can add the ROR. This opens up new possibilities for applications that extract this metadata, such as HAL. If a ROR, present in the DOI, matches with a ROR already present in the repository data, this makes it possible to consolidate the affiliation of an author automatically proposed during the deposit.
To date, we can find 3,759 French research organisations identified in the ROR. As the data is aligned with ISNI, a first test in the HAL listings identified 550 structures. They will soon be completed with this identifier.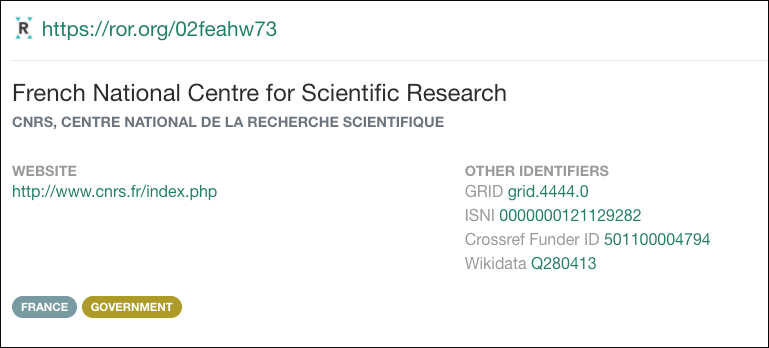 Who runs the ROR ?
ROR is an open infrastructure launched in 2019 for research organisation identifiers and their associated metadata. It is managed by a group of organisations (California Digital Library, Crossref and DataCite) in collaboration with a network of publishers, libraries and foundations.
ROR is intended for use by the research community, to increase the use of organisation identifiers and enabling connections between various systems. The implementation of ROR identifiers in infrastructures and metadata will enable more efficient discovery and tracking of research outputs across institutions and funding bodies.
After ORCID and with ROR, HAL strengthens its insertion in an international network of infrastructures dedicated to open science and contributes to the influence of French research.