The CCSD publishes its 2022 activity report, an opportunity to highlight the vitality of the three platforms and the ambition of the projects and achievements in the service of the research communities.
137,448 new documents with files were deposited in HAL during 2022 (slightly less than in 2021 when the iRevues database in particular migrated to HAL). It brings the number of documents available to 1,132,483 as of December 31, 2022.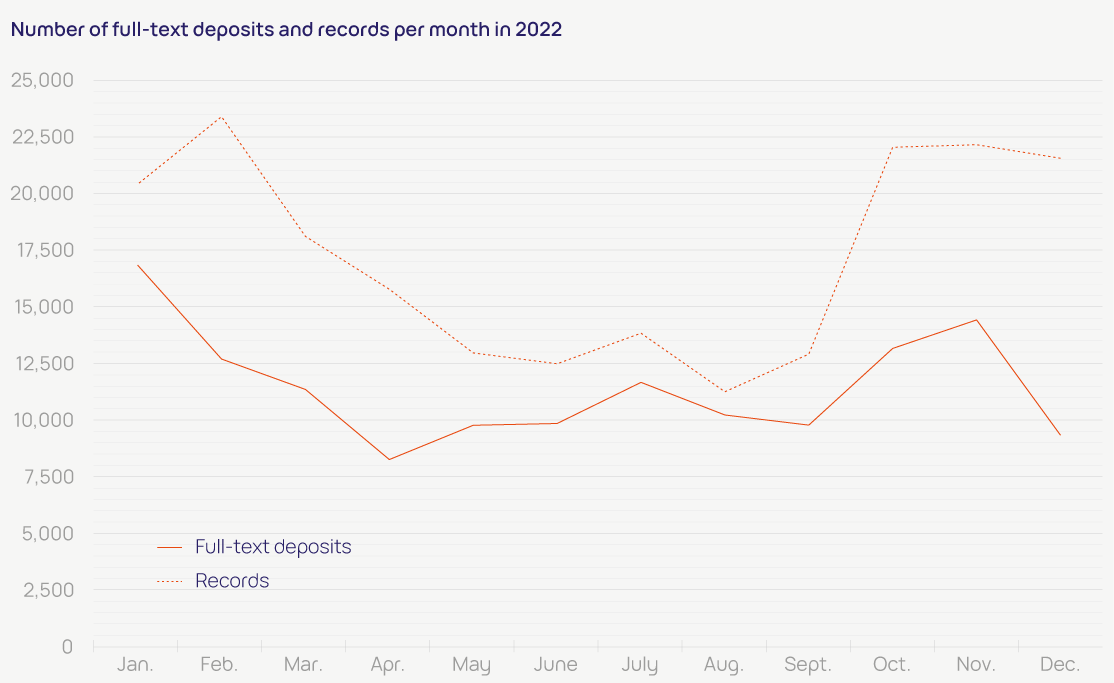 HAL thus represents a corpus of leading scientific publications, a real showcase of French production. It has cumulated more than 117 million consultations (consultations of notices and downloads of files) in 2022.
HAL saw two major changes in 2022. The most visible is the redesign of user interfaces to make them more intuitive. The new screens , whose benefits were eagerly awaited, were deployed at the end of the year. Among the many new features, it is no longer necessary to download a file to read its content: it is displayed directly in the record consultation window. Particular attention has been paid to the deposit form: navigating the form has been simplified, with more sections allowing easier location of details such as document identifiers or funding.
The second major change, more invisible for users, is a new data model for author management. It helps optimize the use of researcher identifiers such as the ORCID, whether internally or through other applications or platforms. As an indication, at the end of 2022, there were 125,631 ORCIDs managed in HAL.
2022 also saw the development and the consolidation of the users assistance. One can mention the creation of the HAL ambassadors programme, the creation of contents to facilitate the appropriation of the new services (videos, webinars, trainings, practical guide), and the deployment of a service offer of editorial support of the Episciences journals.
The CCSD also published in July an updated road map (2022-2027). It incorporates the dynamics created by the National Open Science Plans and takes into account the launch of the HALiance project. This project is the outcome of in-depth thinking about the future of HAL and will make the archive truly exemplary in its mission of sharing and archiving scientific publications in the service of research. The project is ambitious, in line with the expectations and needs of our users: technical reliability and infrastructure sizing, automation of alignment with repositories, regulation of metadata flows, coordination of publications and data, and targeted collection of publications in addition to self-archiving.